Edmonton First Time Home Buyers
Purchasing your first home is one of the biggest decisions you will ever make. This can be an exciting and stressful time and The Mortgage Force Team is here to help. The first time home buyer incentive program is designed to help lower the monthly mortgage payment for first time home buyers in Edmonton. Getting a mortgage pre-approval can help as you will receive information on the maximum amount of a mortgage you qualify for, an estimate of your monthly mortgage payments, and your interest rate for your mortgage.
First Time Home Buyer Incentive Program
The first time home buyer incentive program lowers mortgage payments for first time home buyers by providing them with an equity shared interest and payment free mortgage loan in addition to their regular mortgage. Applicants must meet the requirements and terms of a traditional insured mortgage. The Canadian government will provide up to 10% of the purchase price of a newly constructed home, or 5% of the purchase price of a resale home.
APPLY NOW TO SEE IF YOU QUALIFY
Mortgage Pre-Approval Edmonton
Getting pre-approved for a mortgage can help as it lets you know how much you can borrow. Rates are locked in for 120 days even if mortgage rates increase during the 120 days. Most mortgage brokers and realtors will urge you to get pre-approved and will also show the realtor that you are serious about purchasing a home and give you more leverage over other buyers. Pre-approvals will help budget for your future mortgage and your property tax payments. Pre-approvals will also help set realistic expectations in homes you can afford so you aren't looking at home that are out of your price range. Even if you haven't saved up for a down payment you should still get a mortgage pre-approval if you are seriously considering buying a home.
Using A Mortgage Broker – Residential Mortgage Edmonton
The Mortgage Force Team – Edmonton Mortgage Brokers
Call for a FREE quote 780-466-9898
Call Now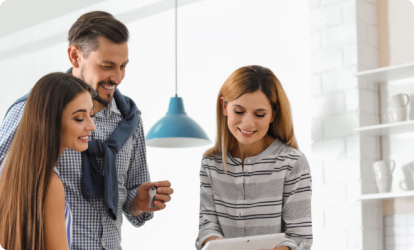 The Importance of your Credit Rating
Having a good credit rating is very important during the home buying process as a good credit score can lead to a better mortgage rate when obtaining financing for your home. The importance of your credit rating should never be overlooked when purchasing a home. A good credit score can lead to securing a better mortgage rate.
Contact The Mortgage Force Team
Purchasing your first home can be an overwhelming process with the wealth of information you are taking in. There are a lot of decisions and questions that you must make when purchasing your first home. It is important to not rush into a decision on the home you want to purchase. Take your time and be thorough during this process. It is a good idea to get everything in writing from your financing terms and the offer you make on a home. Our Edmonton mortgage brokers are ready to help in making your first time home buying experience as smooth as possible. We are ready to answer any questions you may have and can guide you step by step through the process. We want too help you achieve your dream of becoming a homeowner. Contact our Edmonton mortgage brokers today to start your home buying process.